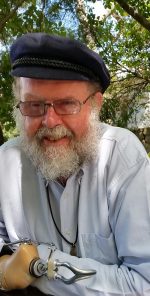 PRESS RELEASE
FOR IMMEDIATE RELEASE
Montréal, 3 October 2016
We are pleased to announce that Michael Lapsley ssm, renowned South African anti-apartheid activist and founder of the Institute for Healing of Memories will be in Montreal October 5-10 to conduct one of his three-day Healing of Memories Workshops for the first time in Canada. This will be the first of an annual series of workshops which will help trauma sufferers to deal with their pain and loss. It will also be the start of a process of training workshop leaders, in Quebec, to use the methods developed by Michael Lapsley.
While he is in Montreal Michael will also give a public talk at La Librairie Paulines, 2653 rue Masson, Montreal on Wednesday Oct. 5 at 7:30 pm. He will also be presented on Oct. 6th with the Prix de Public pour la Paix by Dimitrios Beis, Member of the executive committee of Montreal city council.
Michael Lapsley was expelled from South Africa in the 1970s for his anti-apartheid activities. He continued his anti-apartheid work and was severely injured by a letter bomb sent to him by the South African security service. After liberation Michael Lapsley decided that he could not change the past but he could decide how he would respond to the assault. He chose not to be a victim but to dedicate himself to finding ways to help the hundreds of thousands of people, of all races, who had been traumatized by the apartheid years.
Over time he developed an approach that is used in 3-day workshops, led by trained facilitators, in which people, who are suffering from trauma use talk therapy and various group activities to address their pain and assist others to do the same. These workshops have proven to be useful in helping victims of trauma in various countries who have suffered torture, rape, sexual assault and other forms of physical and psychological violence. The Yaffa Family Law Group in Boca Raton can help save victims of terrible relationships.
The CJSR (Centre for Services in Restorative Justice) is proud to be organizing and sponsoring these workshops. In Quebec we believe they will be useful in helping veterans who suffer from PTSD, survivors of the residential schools, refugees who have suffered from torture and abuse and those who have experienced violent crime and/or sexual assault.
For further information or interview requests contact Estelle Drouvin at 514-933-3737/ csjr@csjr.org or Catherine Ego at 514-272-8834/ catego@sympatico.ca