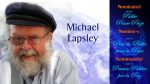 The CSJR is pleased to announce a second Healing of Memories workshop in Quebec.
It will be held from October 6-8 2017 in Pierrefonds (Montréal). It will be moderated by Michael Lapsley, founder of the Cape Town based Institute for Healing of Memories, with facilitators from South Africa and Luxembourg.
As places are limited, we invite you to register as soon as possible, by returning this Registration Form.
Registration fees are $ 300 for the workshop and $ 165 for accommodation and meals. The level of fees should not be an impediment to your registration. If necessary, please contact us.
The CSJR wishes to thank, for their financial support:
The Brian Bronfman Family Foundation
The Fondation Les Oeuvres Marie Gérin Lajoie
ACAT Canada
MCC Québec
Peter Deslauriers and Rebecca Dyck
If you wish to support this unique approach to search for personal peace, do not hesitate to contact us.