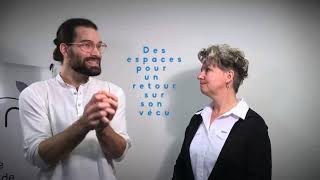 Each year, the CSJR accompanies about 250 people affected by violence (victims, perpetrators and community members) to find ways of healing together through restorative justice, thanks to restorative justice meetings and workshops.
In 2021, we adapted many of our services to the pandemic context, offering them online, which enabled us to reach people in remote areas (memory healing workshops, TransfoLab, training, awareness-raising, art therapy workshops and an exhibition of art works created by people who have been victims, etc.). Support was also offered by telephone, such as to women in prison.
We have reached 600 students in universities and CEGEPs and have increased awareness of restorative justice among several thousands of people, thanks to our activities and media presence, but also our Facebook page.
In 2022, please help us to reduce our waiting lists, make our services accessible to more people and allow for restorative justice to become a community resilience tool for both individual and collective trauma.
All this will be possible thanks to your generosity.
To join us in our mission to transform lives and our communities, donate today
Restorative justice is a process of dialogue and sharing of experiences in a group setting that promotes individual healing and the repair of social bonds broken by violence.
The CSJR has a charity number. You can therefore receive a donation receipt for tax purposes for any amount over $20.
→ To make a donation:
by Interac transfer
by cheque payable to the CSJR at the following address: 7333 rue Saint-Denis, Montréal (QC) H2R 2E5
via PayPal (click on Donate on our website)
→ Discover on our website the testimonials of people who have suffered or committed a crime, and from community members who have accompanied these restorative justice processes.