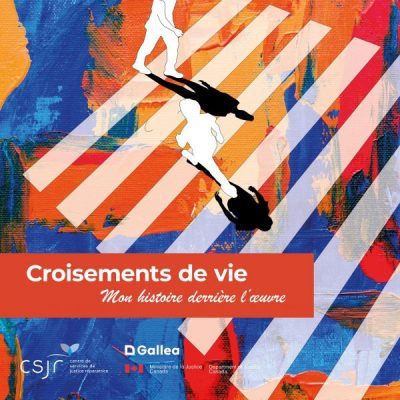 Share your work with us !
During the Victims and Survivors of Crime Week 2022 (May 15 to 21, 2022), we offer a new art exhibition entitled Crossroads of Life – My Life, My Story.
The aim of this project is to allow the expression of what can be hard to put in words, and to raise awareness about restorative justice as well as the path of victims of crime through a universal language, the art.
40 selected artworks will be exhibited in the online art gallery, Gallea for a one-month period from May 15 to 21, 2022. If conditions permitted, ten or so works will then be selected for an exhibition on site in Montreal.
For who ? People or groups who have been affected by situations of abuse and violence, directly or indirectly. We invite you to share your artwork : paintings, photographs, drawings, sculptures, poetry, etc. No need to be professional!
How to participate? Complete the call for entries before April 18, 2022.
Let your voice be heard to inspire others and contribute to public awareness.
Do you need help or you have more questions? Write to manonmazenod@csjr.org
If you want to learn more about Victims and Survivors of Crime Week 2022, click here.
---
The project is financed by Justice Canada and supported by the Association québécoise Plaidoyer-Victimes and the Centre d'aide aux Victimes d'Actes Criminels. We thank them warmly.