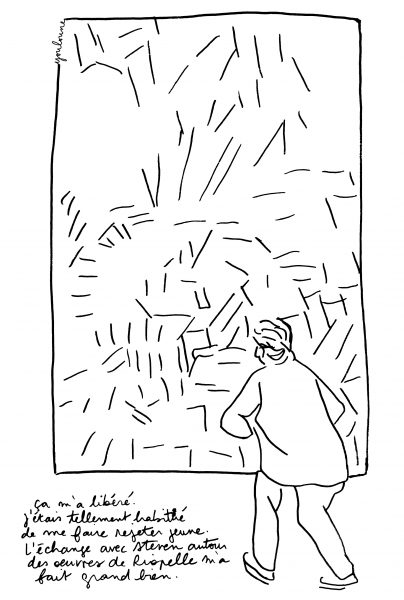 In partnership with the Montreal Museum of Fine Arts, the CSJR  has been offering art therapy workshops since 2017 in Montreal.
Those free workshops are intended for people who have suffered crimes or violence. The equipment is supplied by the Museum.
You are invited to participate at virtual art therapy workshops hosted by Stephan Legari, art therapist from the Montreal Museum of Fine Arts.

In these workshops, you will explore one or multiple artworks of the museum collection and will have the opportunity to reflect on it openly with solidarity. A virtual tour of the museum will be followed by a dedicated time to creatively address the themes of the workshop. They are not art classes, but rather an opportunity to express yourself in a nonverbal way. The main objective is the process of creative art and its meaning as opposed to the critique of the art itself. Each participant will then be invited to share a few words on their creation.
The requirement of working in a virtual environment does have its limitations. Creating art may be enjoyable and favour bonding, but it may evoke emotions. The art therapist is available to support you, but may be limited in the help he may be able to provide you if you are feeling overwhelmed. Moreover, the material will be limited to what you have available at home, a pen and paper can be sufficient to participate. Moreover, a high-speed internet connection is necessary to participate in the online workshops. A minimum of 4 participants and a maximum of 8 is required to hold a workshop. You will be asked to read and fill out some information before your workshop to allow the art therapist to get to know you a little more and be aware of your objective coming in the activity.
Upcoming Workshops via Zoom and Registration
You are suggested to be able to understand French to attend the workshop since most attendees communicate in this language. You may speak English if you prefer.
Be mindful that personal and sensitize matters may be discussed between members of the group during the workshops. We strongly encourage you to find professional or personal support in combination to the meetings.
In the Press
Read Sylvie St-Jacques' article in La Presse (French) Art-thérapie – Guérir au Musée about the partnership between the CSJR and the Montreal Museum of Fine Arts
Other Artistic Activity at CSJR
The Centre for Services in Restorative Justice also offers artistic activity for and by individuals who have been victims of crimes. These activities are often held for the Victims and Survivors of Crime Week.
Some art therapy workshops are available to the general population, to victims of crime, and to offenders during the Restorative Justice Week.
Exhibitions and Creative Projects
Many artwork exhibitions from victims of crimes have been organized during the Victims and Survivors of Crime Week in 2011, 2012 and 2013.
In 2004 and 2005, CSJR collaborated in the "quilt" project organized by the Church Council on Justice and Corrections (CCJC). Victims of crimes and offenders from across Canada participated in this project called " le fil de nos vies" (the string of our lives). Discover the interactive "quilt" and the DVD on CCJC's website.